GUIDELINES ON CERTIFIED MFPC EXAMINER (CME)
A.OBJECTIVE
To ensure appointed Certified MFPC Examiner is suitable and adequately qualified to carry out his/her role and duties.
B.CERTIFICATION CRITERIA
An individual who is to be appointed as an examiner should meet the following criteria:-
1. Possess relevant tertiary education or a recognised professional qualification; preference will be given to RFP/ Shariah RFP designees/Master/ PhD degree holders
2. Shall remain active member of the MFPC at all times and fulfil the CPD hours as required by the Certification and CPD Board
3. Has participated in at least one "Train the Trainer Workshop"
4. Has participated in at least one "Certified MFPC Examiner" Programme.
5. Has been appointed as Certified MFPC Trainer
C.APPOINTMENT PROCEDURES
1. Duly completed curriculum vitae (CV) shall be submitted to MFPC for approval.
2. CV is reviewed and short-listed candidate will be submitted to Examination Board for approval.
3. All approved examiners are to be reported to the National Council for endorsement.
4. MFPC Secretariat will issue letter of approval and certificate; and to communicate the MFPC requirements to the examiners.
5. MFPC Secretariat will constantly update MFPC website on list of Certified MFPC Examiners.
6. Examination Facilitator (Malaysian Insurance Institute) is responsible for the identification and selection of qualified examiners to mark and/or moderate examination papers/project papers.
CERTIFIED MFPC EXAMINER LISTING
(Updated as on February 2021)
| Member Code | Salutation | Name | M1 | M2 | M3 | M4 | M5 | M6 | M7 | SM1 | SM2 | SM3 | SM4 | SM5 | SM6 | SM7 |
| --- | --- | --- | --- | --- | --- | --- | --- | --- | --- | --- | --- | --- | --- | --- | --- | --- |
| M30009417 | As.Prof.Dr | Ahcene Lahsasna | | | | | | | | ✔ | ✔ | ✔ | Zakat | ✔ | ✔ | ✔ |
| M30006804 | Mr | Anthony Ang Sang Nang | ✔ | ✔ | ✔ | | | | | | ✔ | ✔ | | | | |
| M30011198 | Dr. | Anuar Bin Sarun | ✔ | | | | | | ✔ | | | | | | | |
| M30000816 | Mr | Anuar Bin Shuib | ✔ | ✔ | | | ✔ | ✔ | ✔ | ✔ | ✔ | ✔ | ✔ | ✔ | ✔ | ✔ |
| M30000820 | Mr | Ban Hoan Keong | ✔ | ✔ | ✔ | | ✔ | ✔ | | | | | | | ✔ | |
| M30000018 | Dr. | Chai Kon Lim | ✔ | ✔ | ✔ | | ✔ | ✔ | ✔ | | | | | | ✔ | ✔ |
| M30007930 | Dr. | Desmond Chong @ Chong Kok Fei | ✔ | ✔ | ✔ | ✔ | ✔ | ✔ | ✔ | | ✔ | ✔ | | | ✔ | ✔ |
| M30000009 | Mr | Kee Wah Soong | ✔ | ✔ | ✔ | | ✔ | ✔ | ✔ | | | | | | | |
| M30010084 | Mr | Leow Hon Wei | ✔ | ✔ | ✔ | | | ✔ | | | | | | | | |
| M30002253 | Mr. | Liau Chee Hui | ✔ | ✔ | ✔ | | ✔ | ✔ | ✔ | | | | | | | |
| M30000166 | Mr | Michael Kok @ Kok Fook On | ✔ | ✔ | ✔ | | ✔ | ✔ | ✔ | ✔ | ✔ | ✔ | | ✔ | ✔ | ✔ |
| M30000679 | Mr. | Mohamad Sani Bin Ayob | ✔ | ✔ | | | ✔ | ✔ | ✔ | | | | | | | ✔ |
| M30000687 | Mr | Ng Kwong Yong, Jason | ✔ | ✔ | | | ✔ | ✔ | ✔ | | | | | | | ✔ |
| M30010057 | Mr | Pui Wee Hua @ Thomas | ✔ | ✔ | | | | ✔ | | | | | | | | |
| M30005172 | Dr. | Selvamuthu Raja A/L Muthusamy | ✔ | ✔ | | | | | | | | | | | | |
| M30009802 | Dr. | Stanley Yap @ Yap Peng Lok | ✔ | ✔ | ✔ | ✔ | ✔ | ✔ | ✔ | | | | | | | |
| M30011555 | Dato | Steve Ong | ✔ | ✔ | ✔ | | | ✔ | ✔ | | | | | | | |
| M30004865 | Mr. | Teh Chuan Seng | ✔ | ✔ | ✔ | | ✔ | ✔ | ✔ | | | | | | | |
| M30000448 | Mr. | Teo Ah Ngo @ Teow Chin Yen | ✔ | ✔ | ✔ | | ✔ | ✔ | | | ✔ | | | | ✔ | |
| M30010810 | Dr. | Zaemah Zainuddin | ✔ | ✔ | ✔ | | ✔ | ✔ | ✔ | ✔ | ✔ | ✔ | | ✔ | ✔ | ✔ |
| M30000968 | Mrs | Zalina Binti Mohd Ishak | ✔ | ✔ | | | | ✔ | | ✔ | ✔ | | Zakat | | ✔ | ✔ |
| M30009373 | Mr. | Owen Chan @ Chan Ling Foon | ✔ | ✔ | ✔ | Tax | | | ✔ | | ✔ | ✔ | | | | |
| M30010820 | Mr | Woo Kok Hoong | | | | | | ✔ | | ✔ | ✔ | | | | ✔ | |
| M30011123 | Mr | Chan Ninyii | ✔ | ✔ | | | ✔ | | | | | | | | | |
| M30000596 | Mr | Adrian Ho Kian Wei | ✔ | ✔ | | | ✔ | ✔ | ✔ | | | | | | | |
| M30006793 | Mr | Jack Lin Kok Leong | ✔ | ✔ | ✔ | | ✔ | ✔ | ✔ | | ✔ | ✔ | | | ✔ | ✔ |
| M30009392 | Dr. | Hartini Binti Jaafar | ✔ | | | | | ✔ | | ✔ | ✔ | ✔ | ✔ | | ✔ | |
| M30009393 | Dr. | Hazianti Binti Abdul Halim | | | | | | | | ✔ | | ✔ | ✔ | ✔ | ✔ | |
Table Note Indication :-
M1 – RFP Module 1
SM1 – Shariah RFP Module 1
Past Photo for Certified Examiner Programme 2015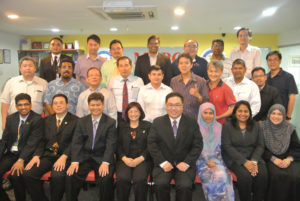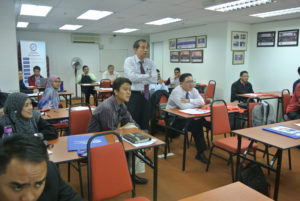 ---
BROCHURE CME 2018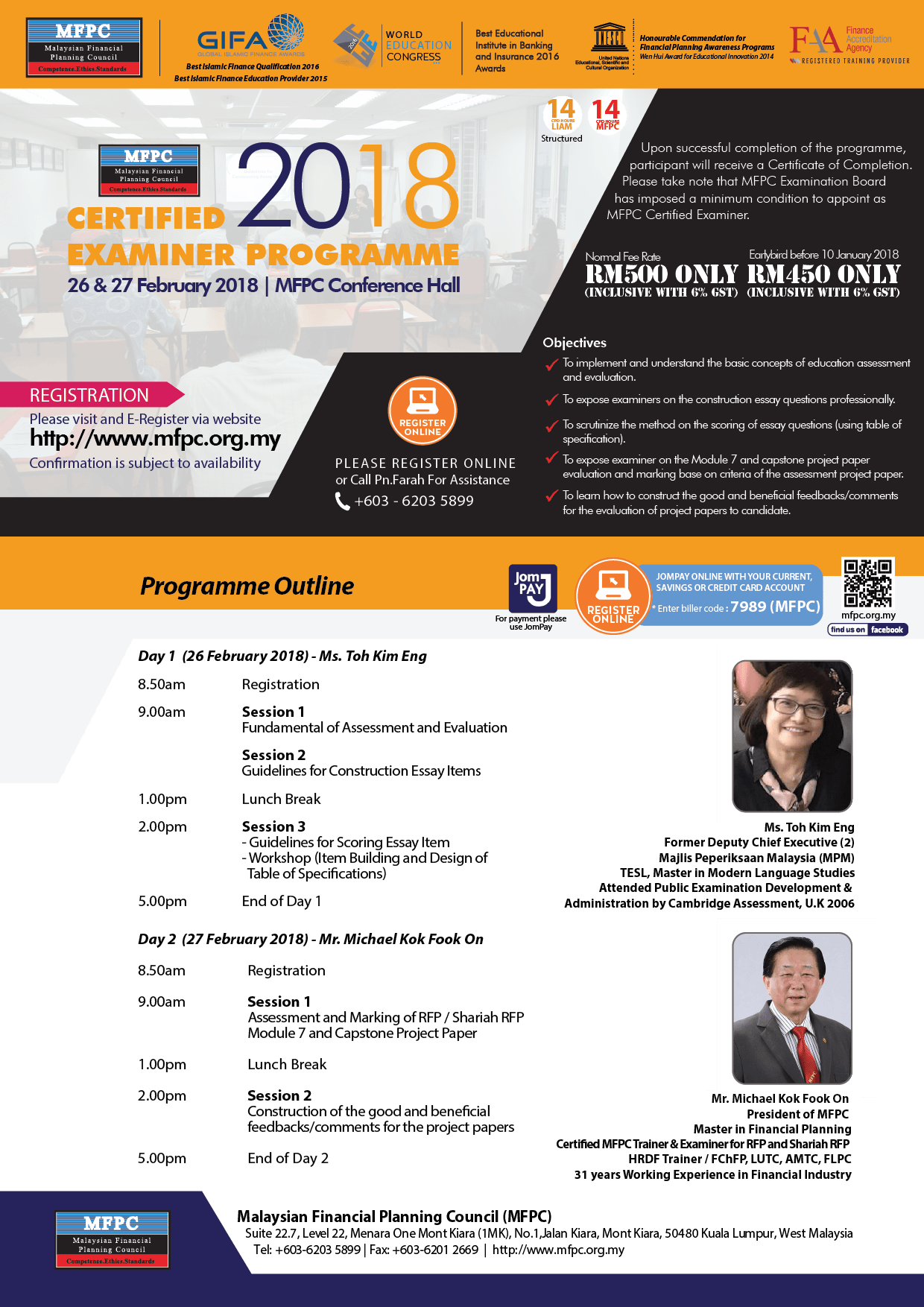 ---
To join us, please click link below
For further assistance, please contact the Education Department at 03-62035899 or email to education@mfpc.org.my
---