SELAMAT DATANG KE PROGRAM BENGKEL PENGURUSAN KEWANGAN (MY MONEY & ME)
Masuk Percuma. (Diiktiraf oleh MFPC sebanyak 4CPD)
Countdown for next program
My Money & Me (Terengganu) | 28th October 2023 | Time : 8.15am – 1.15pm | Raia Hotel & Convention Centre,
Terengganu| Baiduri Ballroom
Online Registration (Closing date : 25th Oct 2023)
<<Click Link below to register online>>
VIDEO MY MONEY & ME (MEDIA SELANGOR) (2 NOV 2019)
Media Release (Selangor Kini)
MFPC anjur kursus kewangan peribadi percuma
Media Release (Selangor Kini)
Pekerja bawah 30 tahun paling ramai terjerat hutang
FINANCIAL LITERACY PROGRAMME "MY MONEY & ME"
Financial Planning Awareness Workshops for Undergraduates, Practitioners and Public "Elevating Financial Planning Literacy of Malaysians" These programmes include:
Financial Planning Workshop – My Money and Me
Shariah Financial Planning Awareness Programme
Honourable Commendation: Financial Planning Awareness Programmes
Malaysian Financial Planning Council, Malaysia
Planning and managing finances for personal and professional purposes is a lifelong process. Learning and acquiring the necessary skills to do so is invaluable. Unfortunately, the level of financial capability and financial literacy of Malaysians is alarmingly low. According to the Federation of Malaysian Consumers Association's 2011 Report, many of the Malaysians declared bankrupt due to credit card debt were under 40 years old and 72 percent of them had no retirement plans. The report also stated that 47 percent of young employees were in serious debt with monthly debt payment of 30 percent or more of their gross income and had, on average, savings to last only four months if they had to stop working. Similarly, the Central Bank of Malaysia found that 72 percent of Employees Provident Fund (EPF) members who are at the pre-retirement age of 54 have savings of just RM 50,000 and below, which means that 50 percent of retirees will have spent their entire EPF savings within 5 years. If left unchecked, this situation will have a serious impact on the individuals, their families and dependents, as well as on Malaysia's social and economic development.
Financial planning is a relatively new sector in Malaysia. The Malaysian Financial Planning Council (MFPC), set up in 2004, is a professional education organization entrusted by the Malaysian government to develop the profession and financial planning services. MFPC has introduced several initiatives and projects to redress the lack of financial literacy of Malaysian citizens.
The liberalization of the finance industry (Islamic and conventional) in Malaysia is expected to have a multiplier impact on the economy. This has resulted in a need to increase the pool of well-trained and professionally qualified financial practitioners to serve the emerging market and the general public. MFPC's attempts to propagate financial planning knowledge has resulted in the Registered Financial Planner (RFP) and the Shariah Financial Planner (Shariah RFP) programmes, targeted at practising financial planners, new entrants into the profession, university and college graduates, and school leavers intending to take up financial planning as a profession.
The RFP, launched in 2002, is the first Malaysian programme designed to be adopted as a common benchmark qualification in the financial planning industry, signifying the twin pillars of professional education and practice excellence. The Shariah RFP which was launched in 2008 is a result of Malaysia's vision to position itself as an international hub for Islamic finance following the phenomenal growth of Islamic Finance and Banking in the international arena. One of MFPC's achievements has been the collaboration with 15 universities in Malaysia to introduce and embed the RFP and Shariah RFP into their curriculum. This provides students a better understanding and motivation to pursue careers in financial planning. Other initiatives include the partnership with Open University Malaysia to develop and offer the Executive Masters in Financial Planning, and the partnership with UCSI University to develop an Executive Masters programme in Financial Planning and Management. MFPC also conducts workshops, seminars and talks to educate MFPC members, civil servants, the public and young Malaysians on the importance of sound financial planning.
These programmes and activities initiated by MFPC are critical for filling the knowledge gap in financial literacy and planning, both in the short term through workshops, seminars and meetings, and the long term through mainstreaming financial planning and management in higher education curricula.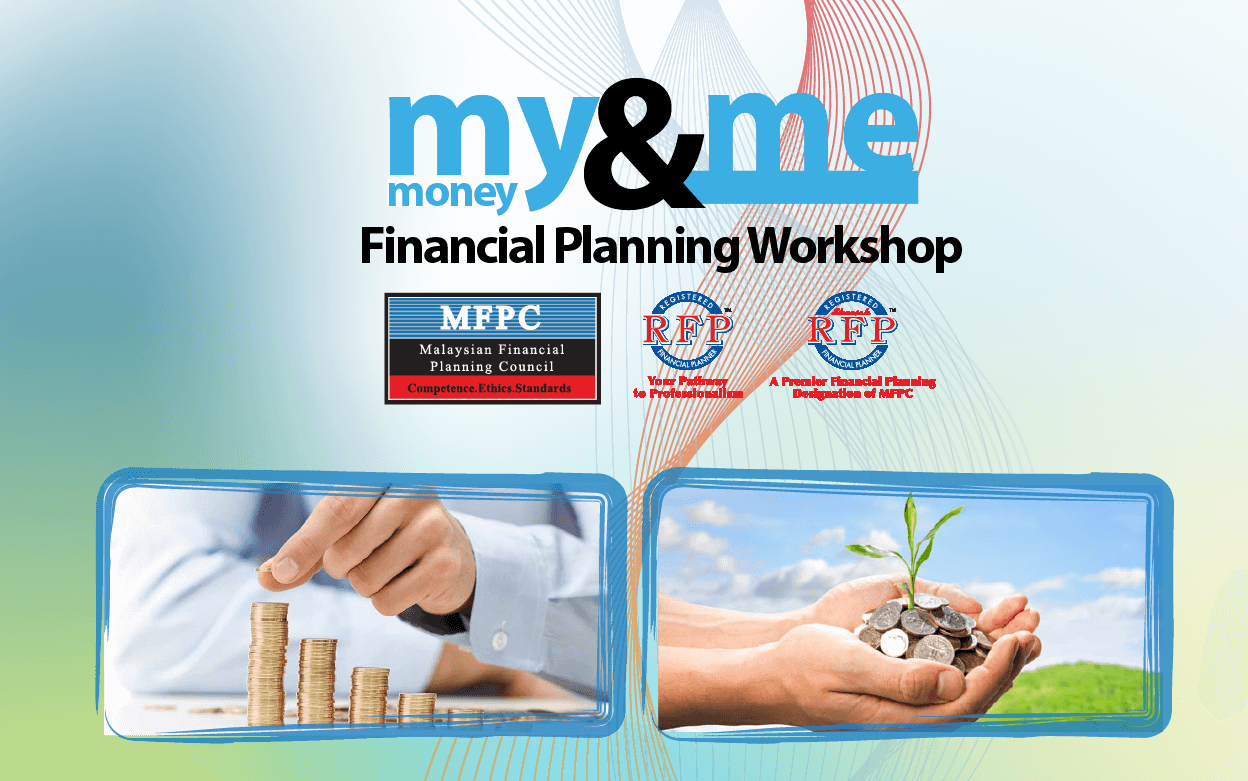 ---
For information on arranging Financial workshop for your staff, and the corporate packages we offer, please contact our External Relations department.
For enquiry please contact Mervin at 03-6203 5899 or email to mervin@mfpc.org.my
---
PROGRAMME BACKGROUND
MFPC has initiated many workshops and awareness programmes on financial planning education in the past with the primary objective of elevating financial planning literacy among Malaysians. In recent months, we are seeing increases in the prices of most commodities that businesses and society rely on. The current situation has rattled business and consumer confidence. There has been increased anxiety over the alarming and rising corporate and household debt in Malaysia. The need for financial literacy in our nation has never been greater. Financial planning is indeed important for one to achieve financial success.
It is in this regard, with the support of our collaborators MFPC is once again organising 7 national financial literacy sessions in the year 2019. This sessions are primarily for youths. For the purpose of clarification, the My Money & Me programme is also conducted for the B40 group at Felda Settlements through the Ministry of Rural Development (KETENGAH, KESEDAR, KEJORA), government entities through INTAN and KWAP.
Our target group to conduct these series of financial literacy programme for the youths are for those between the ages of 21 until 35 in order to provide them the exposure on the importance of personal financial planning.
We are convinced that MFPC can only play a bigger role in providing education on importance of financial planning with key activities in providing public education through our collaborators.As a non for profit organisation our funding sources remains the biggest obstacle for the Council in ensuring the continuity of the programme.
Objectives of the Workshop
Collaborating with Financial Planning providers and Financial Services organizations and co-operating with the relevant regulatory authorities, including Bank Negara Malaysia and Securities Commission Malaysia, Ministry of Finance, Ministry of Education, Ministry of Youth and Sports and the Malaysian Youth Council in the development and promotion of the importance of having proper personal financial plans.
Promoting awareness to the Public of the value and importance of Financial Planning and the services of a financial planner/adviser.
To establish a forum for youths to get together and express their views, knowledge and any other information pertaining to Financial Planning in Malaysia.
To provide information for youths to exercise Financial Planning steps and to analyze their personal Financial Planning status by undertaking the correct approaches.
Intended Learning Outcomes of the Workshop
Youth will be exposed to the important and basic concepts and skills in financial planning for individuals.
Youth are expected to analyze and understand their financial status, and through such awareness make behavioral changes on money management.
Past Workshop Progress, Status & Achievement
MFPC first embarked on organizing the 'My Money & Me' workshop since 2007 to university students and the public with the support from PNB, AKPK, BURSA, PIDM, banks, insurance unit trust companies. As of 2018, the MFPC has trained 30,000 students through workshops in 85 different universities. A total of 20,000 individuals attended the public workshops which were mostly conducted at INTAN, Police Training Center, EPF and IPPTAR. The MFPC workshop has been recognized by Bank Negara Malaysia (BNM), the Securities Commission of Malaysia and the Ministry of Education.
In 2014, MFPC was awarded the 'Honorable Commendation' for the 'My Money & Me' program. The Education Innovation Award by UNESCO seeks to recognize the contributions of educators and institutions that have optimized the potential of education and human innovative spirit to address and resolve issues and problems facing the world today. In year 2018, MFPC received an award from the Securities Commission Malaysia in recognition of the Council's efforts in contributing towards investor educational initiatives and active investor education collaboration with InvestSmart.
In addition, the MFPC has also signed a memorandum of understanding with UN Global Compact Malaysia on UN's Sustainable Development Goals. Under the agreement, MFPC looks to achieve SDG 4 and SDG 17 which provides quality education and partnership for the goals.
---
For information on arranging Financial workshop for your staff, and the corporate packages we offer, please contact our External Relations department.
For enquiry please contact Mervin at 03-6203 5899 or email to mervin@mfpc.org.my
---