APPLICATION FOR MFPC CPD ENDORSEMENT PROGRAMME
Introduction
CPD Information
MFPC CPD Endorsement Guidelines
CPD Requirements
E-Marketing Services
Submit your CPD Endorsement
Endorsed Reading Materials
Introduction
Introduction
MFPC shall charge endorsement fee RM300.00 (Corporate Members) or RM600 (Non-Corporate Members) inclusive SST for each CPD programme approved by the CCB.
CPD Training Provider shall be a Corporate Member of MFPC. We only endorse CPD programme from MFPC Corporate Members.
CPD Training Provider must submit endorsement application via 1stMFPC.org.my at least 14 days prior to the actual programme date.
For endorsed reading materials, you may submit your application via our 1stMFPC portal for corporate members. For Non-Members you may submit your applications to our secretariat <Download Here>
Please login to 1st.MFPC.org.my to apply for CPD Endorsement for your programme.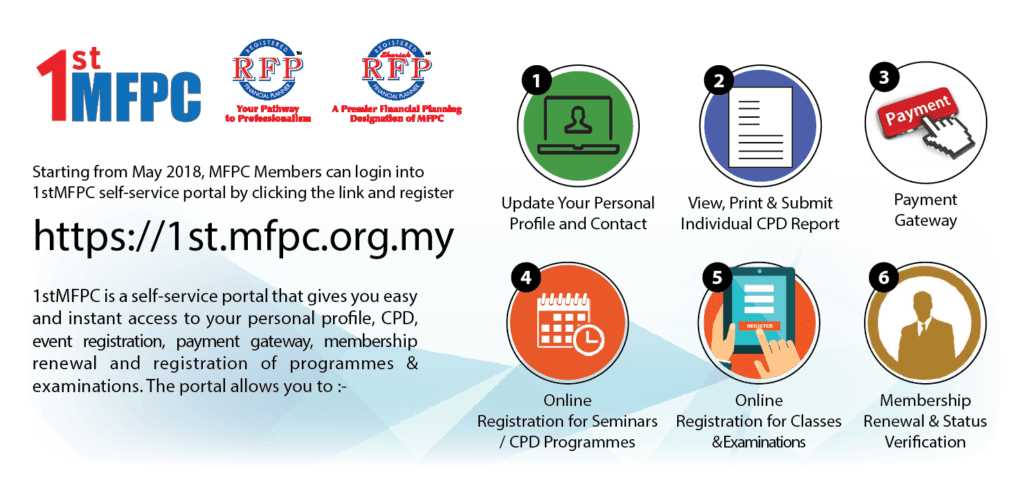 CPD Information
MFPC CPD Endorsement Guidelines
CPD Requirements
E-Marketing Services
Submit your CPD Endorsement
Endorsed Reading Materials